From a recent
New York Times article
on India's public education system, is a public school in Lahtora, which I believe is in the state of Bihar: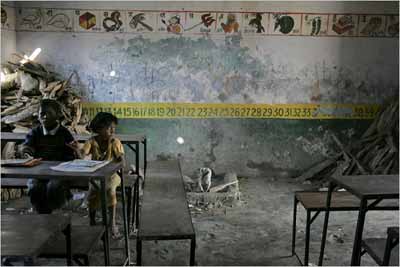 Ouch. (Click on the photo to see the original, larger version at the Times.)
Interestingly, the article (again by Somini Sengupta), shows that the problems in the system aren't necessarily simply created by a lack of funds. Quite a bit of money is being spent by the central and state governments to improve government schools -- this particular village had been allotted $15,000 to build a new school. The problem is that the funds often remain unspent, sometimes because of the famously thick and impenetrable Indian government bureaucracy, and sometimes simply because of corruption and nepotism at the local level.
Sengupta does sound some positive notes along the way. The sheer scale of the effort to improve the schools is mind-boggling:
India has lately begun investing in education. Public spending on schools has steadily increased over the last few years, and the government now proposes to triple its financial commitment over the next five years. At present, education spending is about 4 percent of the gross domestic product. Every village with more than 1,000 residents has a primary school. There is money for free lunch every day.



Even in a state like Bihar, which had an estimated population of 83 million in 2001 and where schools are in particularly bad shape, the scale of the effort is staggering. In the last year or so, 100,000 new teachers have been hired. Unemployed villagers are paid to recruit children who have never been to school. A village education committee has been created, in theory to keep the school and its principal accountable to the community. And buckets of money have been thrown at education, to buy swings and benches, to paint classrooms, even to put up fences around the campus to keep children from running away. (link)
It doesn't always help. The free lunch program in this village, for instance, doesn't work because the principal says the rice he's been sent (lying in stacks in the classroom) isn't "officially reflected in his books." But the recently released Pratham study finds that free lunch is working in 90% of schools, which is pretty good -- again if you consider the scale of the project.
Incidentally,
some Indian newspapers
have also covered the findings of this year's Pratham survey, in somewhat rosier terms -- and, needless to say, no reporters or photographers going out to see actual village schools. The Economic Times, for instance, is impressed that teacher attendance has improved from 38% in 2005, to 53% in 2007. Improvement is great, but it's still hard to imagine children learning very much when
their teachers
only show up every other day!
Finally, the full 2007 Pratham Survey is
here
(PDF); I haven't had a chance to look at it yet. Overall,
Pratham
looks like an important NGO; I'm considering donating something to them to support their efforts.