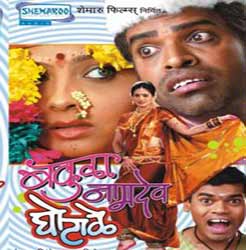 People talk trash about Air India, but it has one distinct advantage -- if you're lucky enough to fly to and from India on one of their newer 747s, which are equipped with personal video screens, you have a wealth of Indian TV, movies, and music to entertain yourself with, while eating
Chiwda
(instead of peanuts) and not-too-bad shrimp curry. (You still have to sit in a cramped little chair for 16-24 hours without losing your mind, but that would be the case on Lufthansa too.)
Our son wasn't too much trouble on this flight (he slept through much of it), so I was able to sample a range of subtitled Indian movies in different languages that I otherwise might not see. In some cases, I didn't watch whole films -- sometimes just an hour or so -- but it was an interesting experiment to compare a group of films that normally are only seen by members of specific linguistic communities. People sometimes talk about Indian cinema as if the only films worth watching are made in Hindi and produced in Mumbai, but perhaps the folks who are saying that only watch those films?
The most entertaining, and highest production value film I watched was the
Tamil
film,
Sivaji, The Boss
, starring Rajnikanth (star of several YouTube "superhits," including
"Little Superman"
). I initially enjoyed the sense of Tamil ethno-linguistic pride in the film (Rajnikant's love interest is named "Tamizhselvi"), though it did start to get old after a little while (I did not see such an obsession with regional identity in the Malayalam, Marathi, Gujarati, Bengali, or Punjabi films I sampled on this flight. Is the Tamil-centricness of
Sivaji, The Boss
unique to this film?).
Rajnikanth's manic physical comedy and dancing, and the film's over-the-top sets and situations, are really why someone who is not a long-term Rajnikanth fan watches a film like this. I couldn't say that the anti-corruption plot made any narrative sense, though there were some powerful "crowd" moments here and there; there's just a whiff of the rough edges of actual Indian politics. More than anything else, it seemed like Rajnikanth's mission in this film is to entertain the audience as fast as possible, and continue doing so until every last bit of amusement is squeezed out of every damn frame of the film. (I wish I knew where he gets the energy.)
Incidentally,
Sivaji, The Boss
was the most expensive Indian film ever made, in any language, as of 2007. It was a super-hit in the South, and successful even dubbed into Hindi.
After
Sivaji, The Boss
, I sampled two
Malayalam
films. I watched most of a wonderful family comedy called
Madhu Chandralekha
, starring Jayaram and Urvasi. I have to say I definitely enjoyed the story about how the ordinary, unglamorous wife of a successful singer and composer becomes jealous of a glamorous young woman who comes into their lives. It felt very real and honest, and Urvashi (a regional actress who came out of "retirement" for this film) is convincingly unglamorous, if that expression can be permitted. (We have all seen movies television programs where an obviously incredibly beautiful woman tries to "frump" it as someone bookish and unpopular, but the audience knows it is only a matter of time before the Grand Makeover occurs, and Beauty Emerges Triumphant. Not so here.) Incidentally,
here
is a song from the film.
Also worth checking out is a Malyalam film called
Smart City
. Set in Cochi, a quick
Google search
revealed that this "honest man vs. the corrupt business establishment and gangster cronies" film seems to be based on a real, 2004 proposal in Cochi to build an "Internet City," where a multinational corporation based in Dubai would develop a whole region of the city as a kind of high-end Internet/IT/Multinational hub. Though it is by no means an art film or a work of political propaganda,
Smart City
is quite serious in its opposition to this kind of "think big/get a piece of the action" approach to development, and touches on a sensitive and important issue that is much broader than just Kerala (i.e., the controversies over "Special Economic Zones").
One small observation: both the Tamil film
Sivaji
and the Malayalam film
Madhu Chandralekha
had physical comedy about what happens
when one eats absurdly spicy food
. In
Sivaji
, Rajnikant coolly eats a plate of hot peppers to impress his love interest and her family, before allowing himself to spazz out in the bathroom. In
Madhu Chandralekha
, the jealous wife makes wildly spicy food for her husband to try and alienate him, because she doesn't feel worthy of his love. Comedy of course ensues when the wrong person eats some of the food. Just coincidence, or is there a tradition of comedy over spicy food either in South Indian movies, or even Indian movies in general?
The Marathi film
Bakula Namdeo Ghotale
was much smaller in terms of production values or professionalism than either of the Malayalam films or the Tamil film I watched, but it was still entertaining, if not exactly Cannes Film Festival material. First,
Bakula Namdeo Ghotale
features actors in starring roles who look convincingly rural (i.e., the male stars
all
have "bad" teeth, and are not conventionally good-looking; see what I mean
in this song
from the film). The plot is nothing too exciting (a conniving Sarpanch falls in love with the wife of the village idiot; the wife fends off his advances and protects her witless husband), but, again, the actors held my attention because they seemed "real" to me.
I watched a little of the
Punjabi film
Ek Jind Ek Jaan
, but quickly got bored and quit. What struck me here, by comparison to the Malayalam and Tamil films in particular, was just how low-budget and uninspired the film looked, even with an "over the hill" Bollywood star as the leading man (
Raj Babbar
). I should point out that there are some higher-end and more ambitious Punjabi films out there, so this is not a comment on the Punjabi film industry in general, so much as Air India's particular selection. (That said, I have never seen a film that had Raj Babbar in a major role that I found watchable.
Shaheed Uddham Singh
,
The Legend of Bhagat Singh
, and
LOC Kargil
were all nauseatingly bad.)
I also watched a few minutes of a Gujarati film, but neglected to write down the title, and so can't say anything about it. Like the Punjabi films Air India was showing, it looked rather cheap and conventional.
While most of the other regional films being shown by Air India have been released in the past two years, their two
Bengali selections
were both "classics," from the 1970s and 80s. The one I watched on this flight was Aparna Sen's 1984 art film,
Parama
, about a housewife who has a flirtation with a young, avant-garde photographer. It was very well done; with the photography theme, it reminded me a little of Antonioni's
Blow-Up
, but with a nostalgic, Bengali high culture sensibility. The young actor Mukul Sharma, who played the photographer in the film, opposite Rakhee Gulzar, reminded me a little of Dustin Hoffmann in the 1970s.
Needless to say, making even half-assed comparisons between different regional cinemas would have been easier if Air India had been showing films comparable in scale and status. There would really be no point in comparing Aparna Sen's
Parama
to something like
Sivaji, The Boss
.
Still, here are some sketchy thoughts: though it makes a big fuss out of adhering to Traditional Tamil Culture,
Sivaji, The Boss
is as over-the-top and glossy as any big, loud, Bollywood movie. This is not terribly surprising; there is a regular exchange of ideas and talent between the Hindi and Tamil movie industries, and watching this film I felt as if I were watching a Bollywood film that happened to be in the Tamil language. The only major difference might be the presence of Rajnikanth himself, who has an utterly unique style and an iconic status that has no equivalent anywhere else.
The Malayalam films I sampled were smaller and less ambitious, but the trade-off is that they both had an honesty to them that I liked, even with dramatically different themes (married life/relationships on the one hand, and corruption/multi-national development on the other).
The other regional films I sampled were less compelling, though between the Gujarati, Punjabi, and Marathi films on offer, the only one I found watchable was the spirited Marathi film
Bakula Namdeo Ghotale
. I do not know if the naturalistic appearance of the actors or village settings is common in Marathi films; if so, it would have to be a reaction against the artificial sleekness and hyper-cosmopolitanism of Bollywood cinema -- and ironic, given that Mumbai is actually in the state of Maharashtra. And because not much is written about Marathi films in English (most of the links that turn up in Google are simply various options for illegal downloading), I have no idea whether this film is typical or not.
Are there other recent films in regional languages that readers would recommend? Also, any recommendations for off-beat, "multiplex" oriented Hindi films? (I have had my fill of Bachchans and Khans for now.)