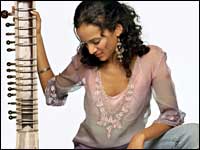 Anoushka Shankar is interviewed
on NPR. Shankar, as you may know, is Ravi Shankar's daughter, and already a well-seasoned Sitarist at the age of 24.
She has a new CD out (her fourth solo effort), called
Rise
.
The interview is decent. There is one (obligatory perhaps) reference to "magic carpets," but otherwise interviewer Susan Stamberg asks good, intelligent questions. Listening, I was mildly surprised to discover that Anoushka has an American accent; hadn't realized she spent her formative years in Encinitas, California.
Some audio samples are available at the NPR page linked to above. Check out "Prayer in Passing"; I believe Anoushka is playing the piano as well as the sitar on that track.