It was a blah weekend, so we decided to go to the city on Sunday afternoon for the India Day Parade. Though it kept threatening to rain, the parade was pretty successful -- maybe 20,000 to 30,000 people there, and lots of floats.
The highlight was getting to stand across the street from A.R. Rahman.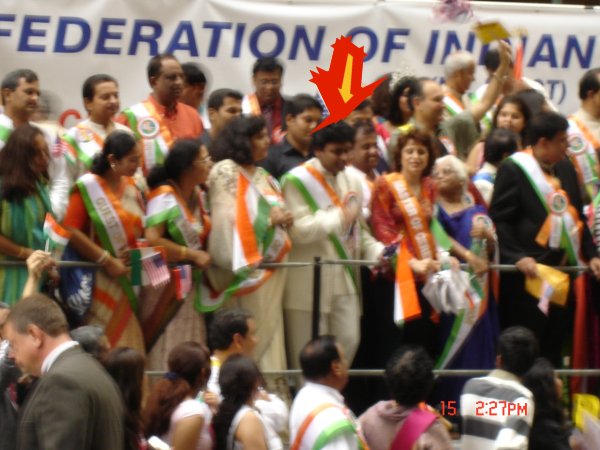 My new camera, ordinarily quite good on shots of individual people or big landscapes, was only giving me blurry shots of the crowd from 100 feet away. Thus, Rahman is blurry. Sorry... I'm very much an amateur photographer.
Anyway, in this image he is singing his song "
Vande Mataram/Maa Tujhe Salaam
" acapella. He has a powerful voice; the crowd was momentarily rapt.
After the parade ended we hung out at the "cultural program" for a little while, but it was pretty dull. The booths were all for uninteresting things, like the State Bank of India, or ISKCON temples.
I saw a flyer about something happening at a
SAMAR
(
South Asian Magazine for Action and Reflection
) booth, which got me momentarily excited. But then I couldn't find any SAMAR booth!