I should start by saying this: I know, if I lived in Louisiana, that I wouldn't vote for Bobby Jindal. I just disagree with him too strongly on the social issues -- intelligent design and abortion rights, for starters -- to let my sense of ethnic loyalty get the better of me.
But I can't help but be somewhat torn when I see photos like this: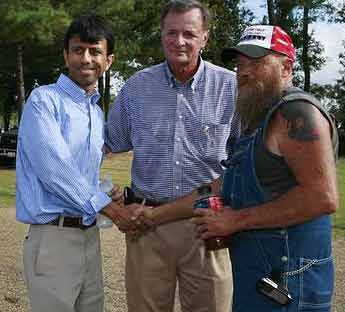 The rest of the very interesting
New York Times profile
explains what this represents: Jindal is slowly winning over the rural white voters in northern Louisiana, staunch Republicans (can anyone say David Duke?) who couldn't bring themselves to vote for him when he ran for governor four years ago. He's also learning how to avoid giving the impression that he is an overachieving policy wonk (which he undoubtedly is), so as to better connect with ordinary Louisianans.
For me, Jindal's growing success at this (again, encapsulated in the photo above) taps into an anxiety I myself have had as a child of immigrants -- who became the first (and only) person in my extended family to earn a Ph.D. Even if your tastes and cultural values are profoundly "Americanized," as mine are, there remains a sense that you don't quite "fit," which tends to be exacerbated (for me, especially) every time some a-hole on South Street (in Philly) mutters something about "there goes Bin Laden" when I walk down the street. Part of the anxiety comes from the ignorance and xenophobia of some Americans, but a good part of it comes from myself, an internalized sense of remaining not-quite-pukka despite everything.
If Jindal wins, his victory will suggest to me he's somehow overcome both sides of the immigrant's anxiety syndrome: the part that comes from others' mistrust, and also the part that comes from himself -- his own sense of being something different, something other than a "normal" American, or in this case, a
representative
Louisianan. If he wins, I won't cheer, but I will, I expect, quietly feel a certain sense of pride at his accomplishment despite my strong disagreement with his kind of politics. Not just because he's a fellow desi -- it's actually more complex than that. Rather, the pride will be because he's a fellow desi who's evidently achieved, after a struggle, something I've long aspired to do: shake that dude's hand.